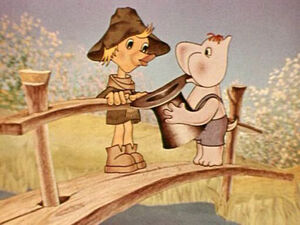 Magician's Hat (Russian language Shlyapa Volshebnika; Шляпа волшебника, literally: Magician's Hat) was a series of three short films or episodes produced by Sverdlovsktelefilm in 1980, 1981 and 1983 in the USSR and directed by Anatoly Aliashev, based on the book Finn Family Moomintroll.
The series was made with cutout animation in color. The main characters were modified by the artists, giving Moomintroll dungarees and hair, Snufkin a beak, and Moominpappa sideburns and a pipe, giving it a very distinct appearance.
Outside of USSR the series has been little-seen.
The Films
Three films were made.
Mumi-dol: Vse delo v shlyape (Муми-дол: Все дело в шляпе, Literally: Moomin-valley: It's in the bag) - 1980
Mumi-dol: Leto v Mumi-dole (Муми-дол: Лето в Муми-доле, Literally: Moomin-valley: The summer in Moomin-valley) - 1981
Mumi-dol: V Mumi-dol prihodit osen (Муми-дол: В Муми-дол приходит осень, Literally: Moomin-valley: Autumn comes to Moomin-valley) - 1983
External links