Moomin's Winter Follies is the first episode in the second series of the 2019 television series Moominvalley.
Synopsis
When a charismatic winter sports champion arrives in the valley, Moomintroll struggles to win back Snorkmaiden's affections.
Trivia
This episode is based on the 1955 Moomin comic strip by Tove Jansson "Moomin's Winter Follies", in which Moomin family plan to go into hibernation, however Moominpappa decides it's too boring to go through with, and so instead they go outside and are drawn into a winter sports competition by the athletic Mr. Brisk. Unlike the episode adaption, the comic strip includes the characters of Mymble's Daughter, Stinky, and a seal named Edward, who is Mr Brisk's main rival, not Moomintroll. Snorkmaiden and Mymble's Daughter both become enchanted by Mr Brisk's talents and manliness, however they change their minds after he treats them unkindly and puts himself first instead of helping them when they become stranded on the ice, with Moomintroll coming to their rescue instead.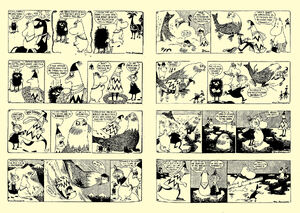 Community content is available under
CC-BY-SA
unless otherwise noted.