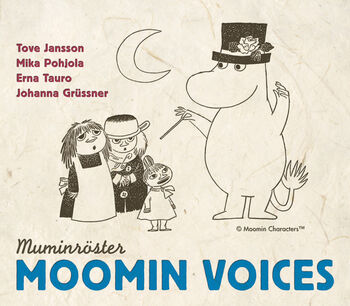 Moomin Voices (Swedish: Muminröster) is a 2003 album arranged by Mika Pohjola and performed by Johanna Grüssner. The album contains recordings of songs written by Tove Jansson and composed by Erna Tauro and Mika Pohjola, previously collected in the songbook Songs from Moominvalley. The album was produced as a tribute to the then recently deceased Tove Jansson.
The songs on the album are portrayed in a very jazz-like fashion, sometimes drifting towards acid-jazz, employing unusual time-signatures and experimental elements like playing sections in reverse. Throughout the album instruments like flutes, recorders, strings and vibraphones are used.
In 2005 the album was translated to Finnish by Kirsi Kunnas and Vexi Salmi and released as Muumilauluja. The vocals on this version were provided by Mirja Mäkelä and Eeppi Ursin, with Johanna Grüssner on backing vocals.
The album was reissued in late 2013.
Tracklisting
All songs written by Tove Jansson and composed by Erna Tauro, except where noted.
Mumindalen Moominvalley - 2:32 (Tove Jansson, Mika Pohjola)
Mumintrollets visa Moomintroll's Song - 3:02
Muminpappans visa Moominpappa's Song - 3:06
Stora äppelsången Grand Apple Song - 0:56 (Tove Jansson, Mika Pohjola)
Lilla Mys visa Little My's Song - 4:43
Muminmammans visa Moominmamma's Song - 1:45 (Tove Jansson, Mika Pohjola)
Fru Filifjonks sång Mrs. Fillyjonk's Song - 5:18
Idyllvisa Idyll Song - 4:34 (Bengt Ahlfors, Frej Liljqvist, Erna Tauro)
Teaterråttan Emmas visdomsord Emma's Words of Wisdom - 4:03
Misans klagolåt Misabel's Lament - 3:18
Alla små djur slår rosett på sin svans Every Little Animal Ties a Bow with Their Tail - 2:02 (Tove Jansson, Mika Pohjola)
Augusti August - 4:22 (Johan Bargum, Erna Tauro)
Villerivallaresången Higgely-Piggely Song - 0:33 (Tove Jansson, Mika Pohjola)
Höstvisa Autumn Song - 4:23
Sov mina ungar Sleep My Children - 1:23 (Tove Jansson, Mika Pohjola)
Julsång för knytt Christmas Song for Toffles - 5:40
Tootickis vintervisa Too-ticky's Winter Song - 3:02
Sången om den döda ekorren The Song about the Dead Squirrel - 1:13
Mårrans klagosång The Groke's Lament - 3:07 (Tove Jansson, Mika Pohjola)
Har du mig här igen You Have Me Here Again - 0:56
Tootickis vårsång Too-ticky's Spring Song - 0:45
Om allt inte var If Everything Wasn't - 2:29 (Benedict Zilliacus, Erna Tauro)
Slutsång End Song - 2:48
Mumintrollets visa (Repris) Moomintroll's Song (Reprise) - 1:36
Personnel
Johanna Grüssner - Vocals, narration
David Ambrosio - Double bass
Laura Arpiainen - Violin
Mark Ferber - Drums
Kerstin Frödin - Recorder
Fernando Huergo - Electric bass
Robert Moose - Violin
MiHee Park - Violin
Mika Pohjola - Piano, keyboards, melodica
Yusuke Yamamoto - Percussion, vibes, flutes, drum programming
Marie Hiraga - Graphic design
Community content is available under
CC-BY-SA
unless otherwise noted.