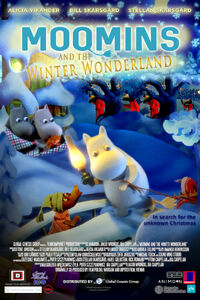 Moomins and the Winter Wonderland (Finnish: Muumien taikatalvi, Polish: Magiczna Zima Muminków)is a 2017 stop motion film compiled from the Moominland Midwinter-based episodes of the 1977–1982 Moomins TV series animated at Se-ma-for in Poland, restored and re-soundtracked with multiple voice actors replacing the single narrator. It is the third such Moomin film produced by Finnish children's film company Filmkompaniet.
International version of the film features the voices of known Swedish actors like Stellan Skarsgård, Bill Skarsgård and Alicia Vikander.
The world premiere was in December 2017.
Ira Carpelan told the media that a new film about Moominpappa's Memoirs will be produced with the same creative team.
External links
Community content is available under
CC-BY-SA
unless otherwise noted.