We're Getting Mutants in the MCU - The Loop
Play Sound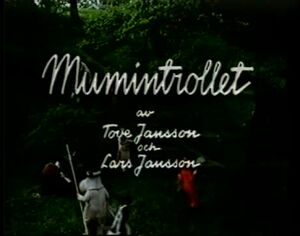 Moomintroll (Swedish:Mumintrollet) was a Swedish television series broadcast from 1969 to 1970. It was written by Tove Jansson and Lars Jansson, and directed by Vivica Bandler. Songs were composed by Erna Tauro. Unlike other adaptations, this television show features an original story about how the King is horrified by the Moomin family and makes it his mission to civilize them, only to find himself drawn into their lifestyle.
The series featured live actors dressed in Moomin costumes, among them Lasse Pöysti returning to his role as Moomintroll. It is infamous for having the actors portraying the Moomin family take off their costume heads during the second episode. This was done to be rid of the unpractical costumes and have the actor's faces be shown for recognition.
The show features returning personnel from the 1958 stage play Troll in the Wings, and can be seen as a spiritual continuation of it.
Episodes
Den lyckliga dalen (The Happy Valley)
Av med näsan (Off With Your Nose)
Fjärilar och hovningar (Butterflies and Courts)
Guld och sammet (Gold and Velvet)
Menuett och spaghetti (Minuet and Spaghetti)
Rubiner och byxknappar (Rubies and Buttons)
Parad och trolleri (Parade and Wizardry)
Kungen kommer! (The King is Coming!)
Kungen blir osynlig (The King becomes Invisible)
Kungen flyger (The King Flies)
Troll och teater (Trolls and Theatre)
Rampfeber (Stage Fright)
Generalrepetition (Dress Rehearsal)
Cast
Nils Brandt - Muminpappan (Moominpappa)
Birgitta Ulfsson - Muminmamman (Moominmamma)
Lasse Pöysti - Mumintrollet (Moomintroll)
Gunvor Sandqvist - Misan (Misabel)
Gustav Viklund - Rådd-djuret (The Muddler)
Elina Salo - Lilla My (Little My)
Lisa Bergström - Filifjonkan (Fillyjonk)
Gösta Ekman - Kungen (The King)
Marianne Stjernqvist - Fru Karlson (Mrs. Karlson)
Roland Hedlund - Kuriren (The Courier)
Bert-Åke Warg - Hovdetektiven (The Court Detective)
Jonny Eriksson - Vakten (The Guard)
Hunden Grace - Hunden Ynk (Sorry-oo)
Gallery
External links