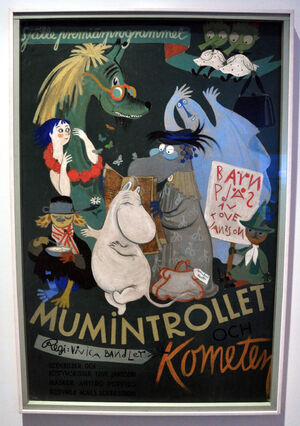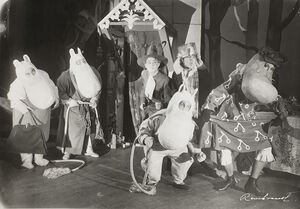 Moomintroll and the Comet (Swedish: Mumintrollet och kometen) was a Finnish stage play which originally premiered at the Swedish theater in Helsinki in 1949. The play was directed by Vivica Bandler and written by Tove Jansson, who was also set and costume designer. The story is a mix of Comet in Moominland, Finn Family Moomintroll and the upcoming Moominpappa's Memoirs. The actors were non-famous theater students. The play had trouble getting approved for production as the Moomins were not seen as kid friendly at the time.
This was the first appearance of the Muddler and the Hemulen's Aunt. The later was played by Birgitta Ulfsson who would go on to play Emma in the following 1958 play Troll in the Wings and Moominmamma in the 1969 television series Moomintroll, all directed by Vivica Bandler and with heavy involvement by Tove Jansson.
Cast
Personnel
Writer - Tove Jansson
Director - Vivica Bandler
Set design - Tove Jansson
Costume design - Tove Jansson
Masks - Antero Poppius
Costumes - Agnes Söderström
Community content is available under
CC-BY-SA
unless otherwise noted.