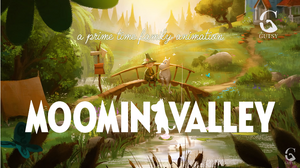 Moominvalley is an upcoming Finnish-British animated children's television series, produced by Gutsy Animations. It premiered on January 25, 2019. A crowdfunded campaign was made on Indiegogo from 8 March to 21 April 2017.
Synopsis
The protagonist of the series is Moomintroll, who is curious, kind, sensitive and idealistic. He is a typical hero in a coming-of-age story: he tries to tackle the puzzle of growing up to his true, individualistic self while remaining a beloved part of the family.
Cast
Music
The score for the series will be composed by Finnish musicians Pekka Kuusisto and Samuli Kosminen. Kuusisto's father, Ilkka Kuusisto, had previously composed an opera for the Moomins with Tove Jansson in 1974.[6]
In September 2018, it was announced that Gutsy Animations made a deal with Sony Music to have the label's artists contribute original songs for each episode.
Gallery
External links
References