Obi-Wan Finale - The Loop
Play Sound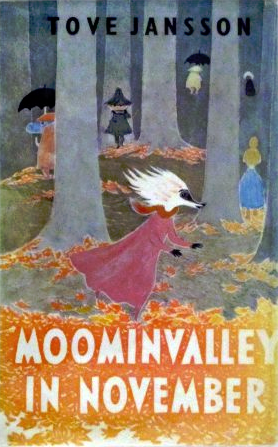 Moominvalley in November (Swedish: Sent i november Literally: "Late in November") is the eleventh in the series of Tove Jansson's Moomin books and the ninth and final novel, published in 1970. It is the only novel where the Moomin family, the main characters in the series, are absent. The story revolves around how a group of people arrive at the Moominhouse in search of the Moomin family, only to find the house abandoned.
Like how Moominpappa at Sea deals with the death of Tove Jansson's father Viktor Jansson, Moominvalley in November is a reaction to the death of her mother Signe Hammarsten-Jansson during the year it was written. The book may be viewed as a "textbook on letting go, being a mature orphan, existing spiritually alone[1]." The story serves as the final farewell of Moominvalley, the absent family is a direct parallel on the writing process and how Tove Jansson was unable to write about them anymore.
The book is dedicated to Tove Jansson's brother Lars Jansson.
Characters
The characters in the story are Snufkin, Mymble, a Fillyjonk, Toft, a Hemulen and Grandpa Grumble. Snufkin is preoccupied with a musical quest. The Fillyjonk has developed an obsession with cleanliness and believes that her home has become overrun with unseen creepy crawlies. Toft is a mysterious small child who has lived under a tarpaulin in Hemulen's boat for as long as he can remember. The Hemulen himself feels it is time for a break from his normal routine. Mymble is sarcastic and long-haired. Grandpa Grumble is happily senile and, as his name would suggest, often grumpy.
Plot Summary
Set in the final days of autumn to the approach of winter, the novels characters are inspired to visit the Moomin family after recalling their previous fond times there. One by one, the group all go to the Moominhouse seeking the Moomin family. The Moomins are gone and, instead, they find one another. There, Toft finds an old microbiology textbook, and misinterpreting it as a story, creates a monster in his imagination, which appears to develop a life of its own.
Grandpa Grumble encounters The Ancestor, an ancient Moomin living in the stove, whose presence is felt or imagined at times.
Adaptations
Moominvalley in November has been adapted to television once in the 1990 Swedish show Moominvalley, although the character Toft appears in the episodes from the 1990 Japanese anime that adapt Moominpappa at Sea.
In 2014 story was made into a stage play at Östra Nylands theater[2].
References
External links