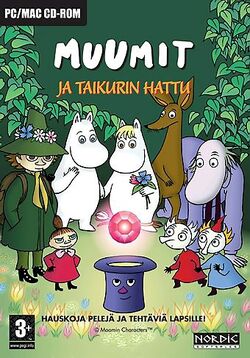 Muumit ja Taikurin hattu is the third Moomin-game in the franchise, released 1997 for PC and Mac in Finland and the game is only available in Finnish. The graphics has greatly evolved seance the two previous Moomin-games and is somewhat more complicated. Most (if not all) of the characters have a speaking roll in the game and --besides the Muskrat, the Mymble's Daughter, (that make their first and last appearance in any Moomin-game) Moominpappa and the Hobgoblin-- the characters have the familiar voice cast from the Moomin Anime.
The game is can be taken as a non-canon sequel to the book: Finn Family Moomintroll seance the narrator tells about what happens to the The Hobgoblin, --He go the King's Ruby from Thingumy and Bob, by they wishing for it – when he collides with a comet on his way back. He and his panther survives with only a few scratches, But the ruby brakes in to nine pieces and is scattered all over Moominvalley (and its surrounding), and after this, the Hobgoblin falls in to a depression. The Hobgoblin's Hat on the other hand knows that the residents of Moomin Valley has found the pieces, and the hat is ready to collect the pieces with the help of the player. Too get the pieces back, the player must finish different tasks throughout Moomin Valley.
Just like in the previous games, clicking on objects with the mouse can cause a short scripted even to occur, but only in a few places. The blue crystal ball next to the Moominhouse gives the player an option to learn more about the different characters in Moominvalley, such as The Groke or the Hattifatteners.
In the games menu, The player can read about the creator of the Moomins, Tove Jansson, whom was still alive when this game was released.
Gallery
Community content is available under
CC-BY-SA
unless otherwise noted.