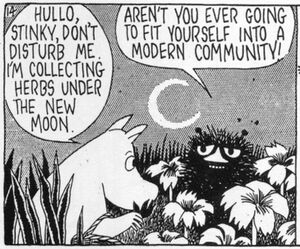 Stinky is a small, brown, hairy thing created by Tove Jansson for the Moomin comic strip. He describes the Moomins as to soft. Stinky lives in the wood at the foot of the tree in Moominvalley.
Stinky is greedy and thinks mainly in his own interests, keeping valuable objects and benefits greatly by making a mockery of others. He is still not thoroughly evil and not without human qualities. Stinky, of course, does not particularly like the water as he keeps falling in it.
Stinky constantly causes problems, especially goods for his own use such as items that will make it easier for him to rob a bank. Therefore, in Moominvalley residents avoid him and he has virtually no friends. The Moomins however, have tried to be tolerant towards Stinky. While Stinky is really nasty, he is not bad. To the Inspector, Stinky is the only a "normal" criminal, but without him the police would be unemployed.
In the Moomin comic books Stinky will eat almost anything, including Moomin's furniture.
Stinky plays a significant role in the final of Tove Jansson's Moomin book Skurken i muminhuset(1980). The book appears under the name Pirates Stinky, which comes in the middle of night to Moominhouse. Little My goes down into the basement to investigate. Stinky sits on a kitchen chair when Moominpappa arrives and discovers that the guest is a pirate-Stinky, which he has known in his youth.
Gallery