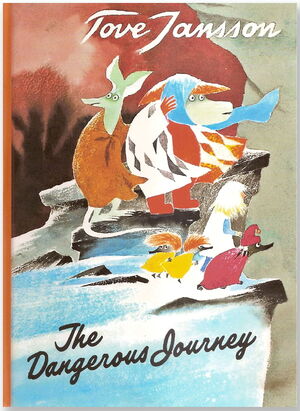 The Dangerous Journey (Swedish: Den farliga resan) is the twelfth in the series of Tove Jansson's Moomin books and the third picture book, published in 1977. It tells the story of a girl who finds herself in Moominvalley when searching for her lost cat.
The book was published in English by Ernest Benn, and translated by Kingsley Hart. The English version was initially only released once as a hardback copy which became a sought after item by collectors until it was finally republished in 2010.
The book is dedicated to Malin and Mikael.
Plot Summary
On a lazy summer day, Susanna is annoyed at her cat and longs for danger. When she takes off her glasses, they suddenly vanish, instead she finds another pair that transform the world around her into something frightening and different. Susanna's cat grows enormous and runs away, with Susanna following it.
She finds herself in a mangrove swamp, she sees her reflection has changed drastically, but has no time to ponder this as she discovers snakes living in the water. She runs away past the ocean which has been drained revealing a mountainous terrain, eventually she runs into the winterloving Hemulen, Sorry-oo and Thingumy and Bob, who went out for berry picking, but are confused by how the world has suddenly changed.
Nearby a volcano erupts, countless hattifatteners flee it together with Sniff, who joins the group as they head southwest to Moominvalley. They find themselves inside a mysterious snowstorm where they spot the Groke. They find shelter for the night in a cave where Snufkin and Wimsy has set up camp.
The next morning they depart only to find themselves chased to the edge of a waterfall by an unknown figure. At the last second they are saved by Too-ticky who arrives in a hot air balloon. As they fly over the ocean the balloon drops altitude, and Sniff has to throw all his jewels overboard much to his dismay.
The group land successfully in Moominvalley where they are greeted by the family. Susanna finds her cat sleeping at the doorstep of the Moominhouse. After a party lasting well into the night, Susanna has to leave for home. Susanna is unsure if her journey was real or not, but finds it ultimately unimportant.
Adaptations
The Dangerous Journey has been adapted to television once in the 1990 Swedish show Moominvalley.
On their 2007 album, the Hemulic Voluntary Band, Swedish progressive metal band Ritual adapted the Dangerous Journey into a 26 minute suite.
External links
Community content is available under
CC-BY-SA
unless otherwise noted.