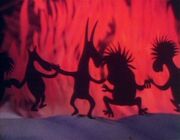 It was a long winter in moominvalley and everyone except Moomintroll was sleeping. For some reason Moomintroll had woken up and he could not get back to sleep. Winter was cold and dark, so each day moomintroll went to look for sun. One day he noticed that someone had been stealing wood. The thieves left footprints in snow, so Moomintroll tracked them to the top of a hill and found a huge stack of wood, and Too-Ticky who was adding more and more fuel to the stack. Too-Ticky explained to Moomintroll that she was building this stack to welcome the sun, and he should be proud that he could be part of it. At the same time Little My brought an old box, and put it on the stack. Moomintroll went back home and looked for more old stuff to burn. After the moon rose a lot of forest creatures arrived to dance around the bonfire and celebrated the arrival of the sun.
Moomintroll was very happy to see winter creatures for first time in his live. Unfortunately The Groke came and
cloud of ice fade out the fire. See was looking for some thing to warm her up. But anything she touched was change in ice. Moomintroll and his friends hide in cave Moomintroll asked if the The Groke can change sun in to ice too but Too-Ticky explain that she don't have power over sun rise.
Crew
Director: Jadwiga Kudrzycka
Assistant director: Eva Przyjemska
Photos: Albert Fedak
Assistant Operator: Jadwiga Zauder
Animation: Janina Dychto
Sound: Mieczysław Janik
Installation: Henry Sitek
Executive Producer: Ada Stronias