Thingumy and Bob
(Tiuhti and Viuhti in Swedish) are recurring characters in 
Moomin
works. Tiuhti and Viuhti's names were based on those of Tove
Vivica Bandler
. Thingumy and Bob are timid little creatures, who initially did not trust anyone. Snork Maiden was their first friend and the Moomins. In the book
The magician hat
Tiuhti and Viuhti will
Moominvalley
is escaping from
Mörköä
. They carry a large suitcase, where they are hiding Mörö coveted King of
Ruby
a. Tiuhti Viuhti and speak strangely, and only Hemulen is able understand them. They add words, the end of ti-byte (series, though they do not speak so). Jansson, 1947-1948 appeared in "Armageddon is coming!" comics, this is explained by the fact that Tiuhti Viuhti and speak foreign languages. However, comics Niiskuneiti to understand them.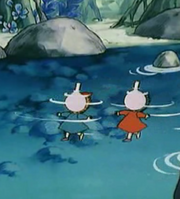 Moomins
series of the Finnish version Tiuhti Viuhti and speak normally. Moominmamma to help them cope with the boogeyman of persecution. Is also a magician wants a ruby, and so Tiuhti Viuhti hope conjure up a magician himself.
History
In the main story the Two little creatures who turn up in Moominvalley with a large suitcase, which contains the King's Ruby. They speak a strange language (with "-slan" appended to the ends of some words in the Swedish original, which became spoonerisms, e.g. :"'Man you cake it out?' asked Thingumy. 'Mot nutch,' said Bob", in the English translation) and are pursued by the Groke who wants the contents. They upset Moominmamma by stealing her handbag. They eventually return it and the whole family throws a party to celebrate. The Hobgoblin arrives when Thingumy and Bob open the suitcase, exposing the King's Ruby for all to see. They didn't give him the ruby, but when the Hobgoblin gave everyone there a wish, then they wished for the Hobgoblin to have a ruby as beautiful as theirs; the Queen's Ruby.
Television seriessectionA wonderful gift and Tiuhti Viuhti return Moominvalley and explain Moominmamma :'We wanted to come again. " Stinky steals their wonderful gifts, but they are able get them back from the Hemulen.
Gallery
Moomins episodes, which occur Tiuhti and Viuhti
Tiny visitors (part 6)
Suitcase (Part 7)
The magician magic (part 8)
A wonderful gift (Part 72)