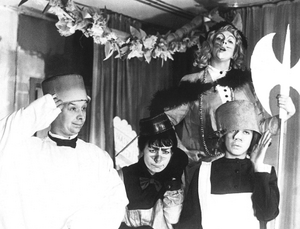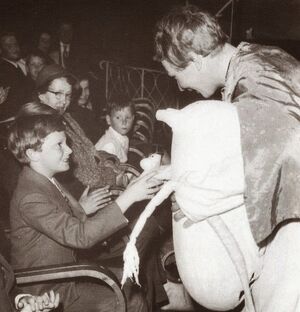 Troll in the Wings (Swedish: Troll i kulisserna) was a Finnish stage play which originally premiered at the Little Theater in Helsinki in 1958. The play was directed by Vivica Bandler and written by Tove Jansson, who was also set designer. The story is based on Moominsummer Madness. The Swedish audience wanted songs in the play, so a selection were written by Erna Tauro, who would return to write Moomin music until her passing.
The play was a much bigger success than the previous Moomintroll and the Comet in 1949, and several of the involved staff would go on to produce the 1969 television show Moomintroll. Birgitta Ulfsson who had played the Hemulen's Aunt in 1949 returned here to play Emma. This was the first time Lasse Pöysti portrayed Moomintroll and Gunvor Sandkvist portrayed Misabel, all three actors would return in the 1969 television show.
The play features a notorious scene where Moomintroll's head is removed, revealing the actor behind the mask. The same practice would return to great controversy in the 1969 show. This was done to increase voice clarity and agility, as the mask was unpractical but necessary to introduce the character in a recognizable shape.
An accompanying EP featuring the main songs from the play was released in 1960.
Cast
Moomintroll - Lasse Pöysti
Misabel - Gunvor Sandkvist
Emma - Birgitta Ulfsson
Fillyjonk - Eva Perander
Little My - Jutta Zilliacus
Chief Fire Fighter - Åke Lindman
The Caretaker - Börje Idman
The lion's rear - Played by Tove herself during some shows
Personnel
Writer - Tove Jansson
Director - Vivica Bandler
Assistant director - Ralf Långbacka
Set design - Tove Jansson
Music - Erna Tauro
Community content is available under
CC-BY-SA
unless otherwise noted.