Hello!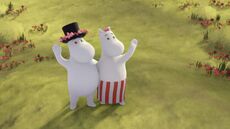 My friend introduced me to the Moomins when I was about 12 and I've loved them ever since. My favourite characters are Too-Ticky, Snufkin, Little My and Moomintroll himself, although I could continue that list forever because it is so hard to choose favourites when they are all so special and interesting. My bedroom is Moomin-themed, and I love to collect Moomin figures and plushies, there's just something very reassuring and wholesome about them.
My favourite book is probably Tales from Moominvalley and I haven't watched much of the television series but I love the 1990 animation and the recent Moominvalley series is so precious! Moomins on the Riviera is very sweet, too.
Thanks for stopping by! I hope to help out with keeping this Wiki active and helping this community of fellow Moomin fans flourish.
As of May 2nd 2019 I am an admin on the Moomin Wiki! I'm here to help, and here to keep our Wiki looking shipshape and making sure that our community is doing okay, so don't hesitate to message me if you have any queries or just want to say hi!
We've got 2,728 pages, 231 articles, and 9,053 total edits made to the wiki so far! Look at us go! Thanks to all who have contributed, and hello to our current 7 active users!
A note for all new (and maybe old) Moomin fans who may be coming to this Wiki to add something that they consider very entertaining to one of our pages, probably Snufkin's page: Don't. Please don't.
I need to be professional and practical about everything that happens here, as an admin, and as someone who genuinely really cares about building up this Wiki to be a really useful and reliable collection of Moomin information, and I try to remain impartial about things like this, but outside of that I really want to say look, I get it. Moomintroll and Snufkin can easily be seen as sweethearts, that's how I've always interpreted it, and it could be that that's exactly what Tove Jansson intended, and it's very nice and wholesome, and I support every single person who also sees them that way, but please remember that this is a Wiki and please have some respect for all of us who volunteer to work on this Wiki in our free time.
We cannot just bend the rules and allow every single interpretation to have it's place alongside facts on these pages, however harmless they are or however obvious they may seem. There is a lot of room on the internet for discussion on the very obvious LGBT themes in Tove's work, but please don't do it on these article pages. Just make a comment or start a Discussion or something instead of being the fifteenth person to put 'be gay do crime' on Snufkin's page this week. It was funny maybe the first time but now it's just disappointing that so many people keep having so little disregard for the people behind this Wiki. Thank you.
Activity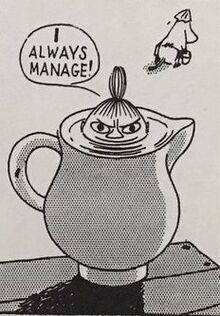 Today it is: 03/04/2020
My activity was last updated: 17/01/2020
Currently editing:
Series 2 of Moominvalley episode articles
Series 2 of Moominvalley soundtrack/song articles
Adding Series 2 of Moominvalley information to Moominvalley article
Improving character page titles/correcting
Adding infoboxes and translations to all character pages
Next up:
Adding italics to media page titles (TV shows, books, films)
Create page for The Invisible Child Campaign (Oxfam & Moomin)
Create About page
Change 'Moomin Characters' category into Main characters and Minor characters
Change Moomin Books category to Books (Moomin addition is reduntant). Same with other Media categories
Moominvalley 2019 - add themes to episodes
Adding infoboxes to People pages
Add Japanese cast for Moominvalley 2019
Adding pages for cast members of Moominvalley 2019
Book template
Create Woodies page
Add infoboxes to Book pages and organise
Moominpappa's Memoirs - change to Exploits of Moominpappa?
Novels and picture books - separate categories?
Work on Moomins Cookbook article
Create/work on The World of Moominvalley book article
Adding more info/sections to character articles
Comic strip template
Comic strip pages (add pages for individual comics?)
Add infoboxes to TV series pages and organise
Film template
Community page and about page
Add infoboxes to Film pages and organise
Add customised achievements (stamps)
Organise/add categories to uncategorised pages
Update non-portable infoboxes
Add information to Stubs
Add infoboxes to Moomin articles
Finished editing (for now)
Moomin Music category updated to Music category
Reorganising Moomin (Tanoshii Mūmin Ikka) (1990) categories/articles
Delete Tanoshii Mūmin Ikka Episodes videos of full episodes as not allowed to be a hosting website
Improving and updating pages in Category:Moomin Locations and replacing with Category:Locations
Moominvalley (2019) and creating/editing episode and soundtrack articles
Add infoboxes to song pages
Infobox Music template
Main Page gallery improved - links updated, images replaced with HQ images
Main Page activity feed template
New Main Page poll, poll template and poll archive page
Main page maintenance & added featured page
Infobox Person template
Updated and added links to Top Navigation
Improved wordmark, colour scheme and background image
Improving titles for TV series and Film pages
Organising Moomin TV series and Moomin Films category pages
Adding infoboxes to main character articles
Infobox Television template