In the moominioj universe, anthything goes. childeren's books, anime, even merchendise. But i have a need to renovate this wiki so bad! So, i created the moomin wiki improvment project. (MWIP) So, here is how I can help.
My goals
I need you to let me work on adding new stuff to the wiki.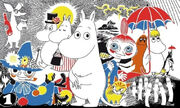 We need to know the covers of the books in finnish, sweedish, and japanese.
This wiki  needs a backround, like other wikis. ------------->
We are in dying need for screenshots and videos for the 1969 and 1972 animes.
All infoboxes must have one image drawn by Tove jansson
I need to know the japanese translations since moomin was a success in japan.
And lastly, I DO NOT WANT YOU TO POST INNAPROPRIATE STUFF.
I need to improve the wiki, so please make good comments. I BEG YOU TO BE NICE TO ME!
IF NOT, YOU GET THE PUISHMENT.
The punishment: 
Being forced to bring the Hattifatners cocktails
Community content is available under
CC-BY-SA
unless otherwise noted.