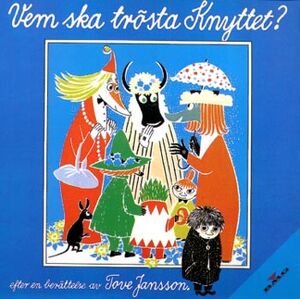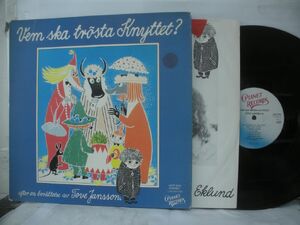 This article is about the 1978 album. See Who Will Comfort Toffle? for the original picture book.
Who Will Comfort Toffle? (Swedish: Vem ska trösta Knyttet?) is a 1978 album by Swedish acid/psych progg duo Peter Lundblad and Torbjörn Eklund based upon the picture book Who Will Comfort Toffle? by Tove Jansson. In 1994 it was re-released on CD.
In essence, this is an audiobook, but the story is performed through songs using the original text as lyrics, making it just as much a musical experience. The album features elements of progressive concept albums, with interwoven tracks, reprises and extended instrumental sections.
In 1980, the book was adapted into an animated shortfilm, using an abridged version of this album as its soundtrack.
Tracklisting
All songs written by Peter Lundblad.
Ensam i natten Alone in the Night - 2:11
Flykten The Escape - 2:23
Blyg och rädd Shy and Afraid - 2:12
Mumrikens äng Snufkin's Field - 2:15
Hemulens kalas The Hemulen's Party - 3:16
Snäckan på stranden The Seashell on the Beach - 2:49
Brevet The Letter - 2:57
Modig, stark och glad Brave, Strong and Happy - 2:31
Havsäventyr Adventures on the Sea - 2:31
Drontens fiskafänge The Booble's Draft - 1:25
I hotfulla skogen In the Menacing Woods - 2:39
Kampen mot Mårran The Fight against the Groke - 1:31
Skruttet Miffle - 2:05
Nu tröstar vi varandra och är aldrig rädda mer Now We Comfort Each Other and are Never Afraid Again - 3:56
Personnel
Peter Lundblad - Guitar, bass, keyboards, lead vocal, etc.
Torbjörn Eklund - Keyboards, flutes, amadinda, etc.
Backa-Hans Eriksson - Bass, music box
Henrik Hilldén - Drums
Sniff - Drums (on tracks 9 and 14)
Opa - Percussion
Hans Olsson - Organ, amadinda
Jan Kling - Clarinet, B clarinet, saxophone
Mats Andersson - Accordion, fiddle
Agneta Olsson - Vocals
Lasse Tennander - Booble
Community content is available under
CC-BY-SA
unless otherwise noted.